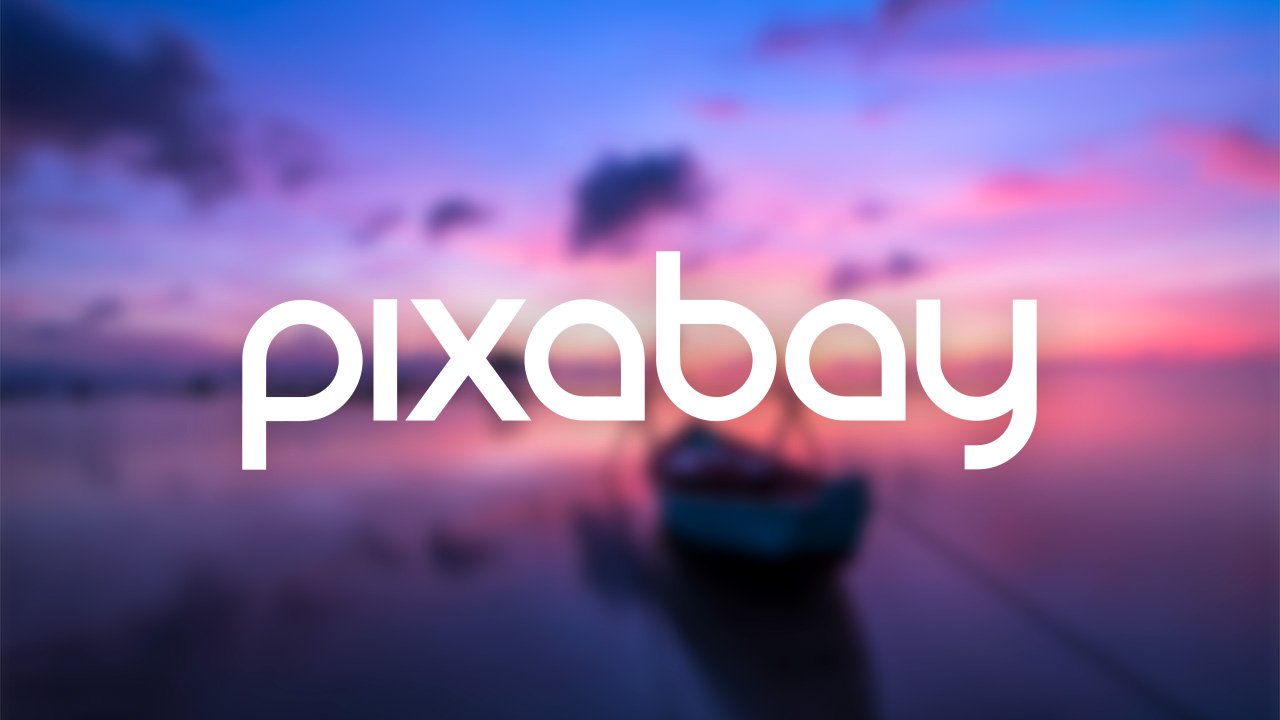 Pixabay, a free stock content website now owned by Canva, has once again updated its terms of service.
The new terms came into effect on April 17th, 2023 and included the modification of the "Pixabay License", to the "Content License", as well as the reintroduction of the Creative Commons CC0 license for old content. Additionally, Pixabay's terms now include a new clause regarding uploading content created with generative AI technology.
According to an official post on Pixabay's forum, the new changes are intended to be clearer and easier to understand and have been made in conjunction with feedback from Pixabay users and contributors.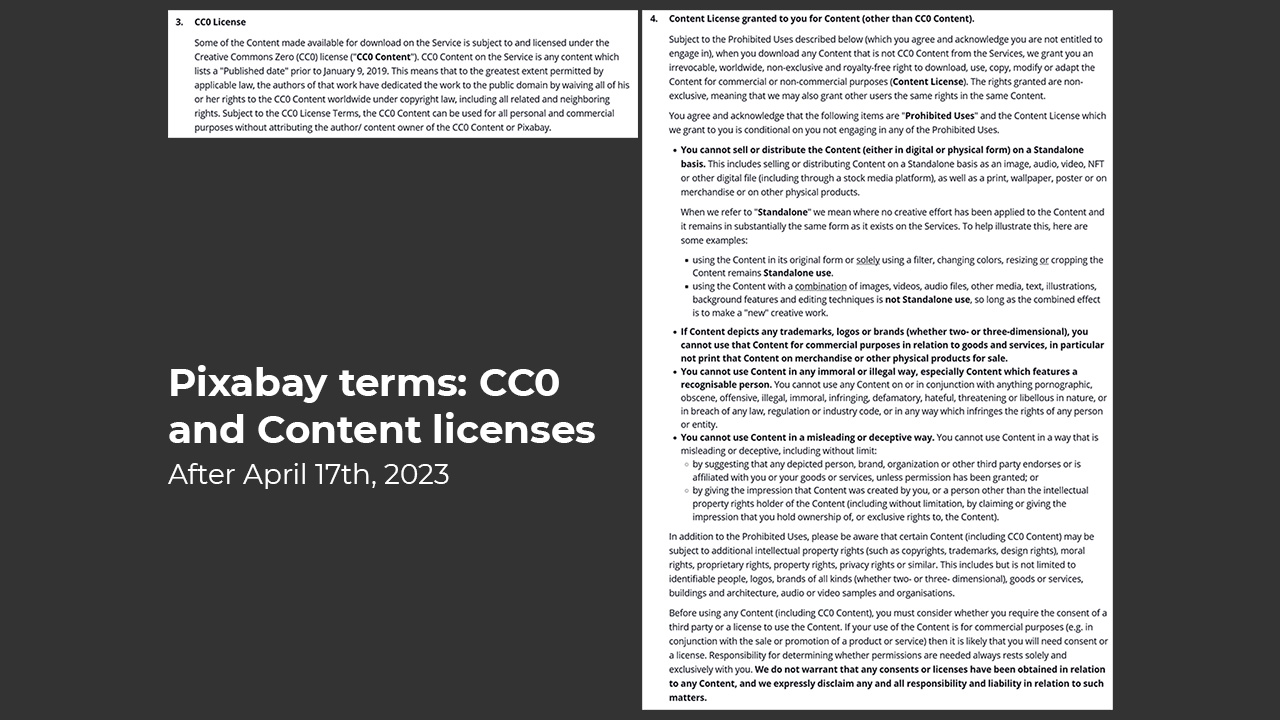 "Content License", formerly the "Pixabay License"
Pixabay's new "Content License" is very similar to its former "Pixabay License". Though the license name has changed and the general wording is more comprehensive with additional clarity, the license is basically the same. However, there are a few differences which could be seen as more restrictive to the previous license and could prove to be a problem depending on one's usage.
The key parts of the license which Pixabay bases itself around — the licenses scope, in that it is "non-exclusive, irrevocable, worldwide and royalty-free", the usage rights which allow you to "download, use, copy, modify or adapt", and the allowed purposes that permit commercial and non-commercial use — none of that has changed.
What has been modified are the "Prohibited Uses". Though they are either the same or slightly different, the new wording is more comprehensive and expansive, with a broader reach compared to the "Pixabay License", which is more specific in its restrictions.
Though the changes are minor and mostly come across as in favor of Pixabay's contributors instead of their users, the wording of the "Content License" leaves plenty up for interpretation, despite the new clarification and numerous specific examples for what is and isn't acceptable.
Be sure to read the current license Pixabay uses in their terms carefully, linked here, otherwise you could get yourself in serious trouble depending on your usage of Pixabay's content.
Other than that, the new license also takes into account content which falls under CC0.
CC0 license is back, but only for old stock
In addition to the "Content License", Pixabay's terms once again include the CC0 license (Creative Commons public domain), though, it only applies to content uploaded prior to January 9th, 2019.
When the then "Pixabay License" was introduced back in January 2019, CC0 appeared to completely disappear from the service, both in Pixabay's terms and on individual content pages. This meant the CC0 content on Pixabay appeared to have had its license changed to the more restrictive "Pixabay License", in other words, removing new downloads of that content from the Public Domain.
Arguably, when CC0 was removed, content uploaded to Pixabay under CC0 never necessarily had their license changed. This is because once a creative work is dedicated to the public domain aka CC0, it cannot be revoked or reversed. However, if the same content were to be downloaded after the license change, it may not have necessarily been considered the same CC0 assets.
The move of reintroducing CC0 for Pixabay's original stock, though appearing to be downplayed, could be seen as acknowledging this.
However, despite the CC0 license being reinstated, the download pages for the applicable content only mention Pixabay's "Content License", not CC0. This is very misleading, as users who don't specifically read the full terms won't know that the CC0 license applies.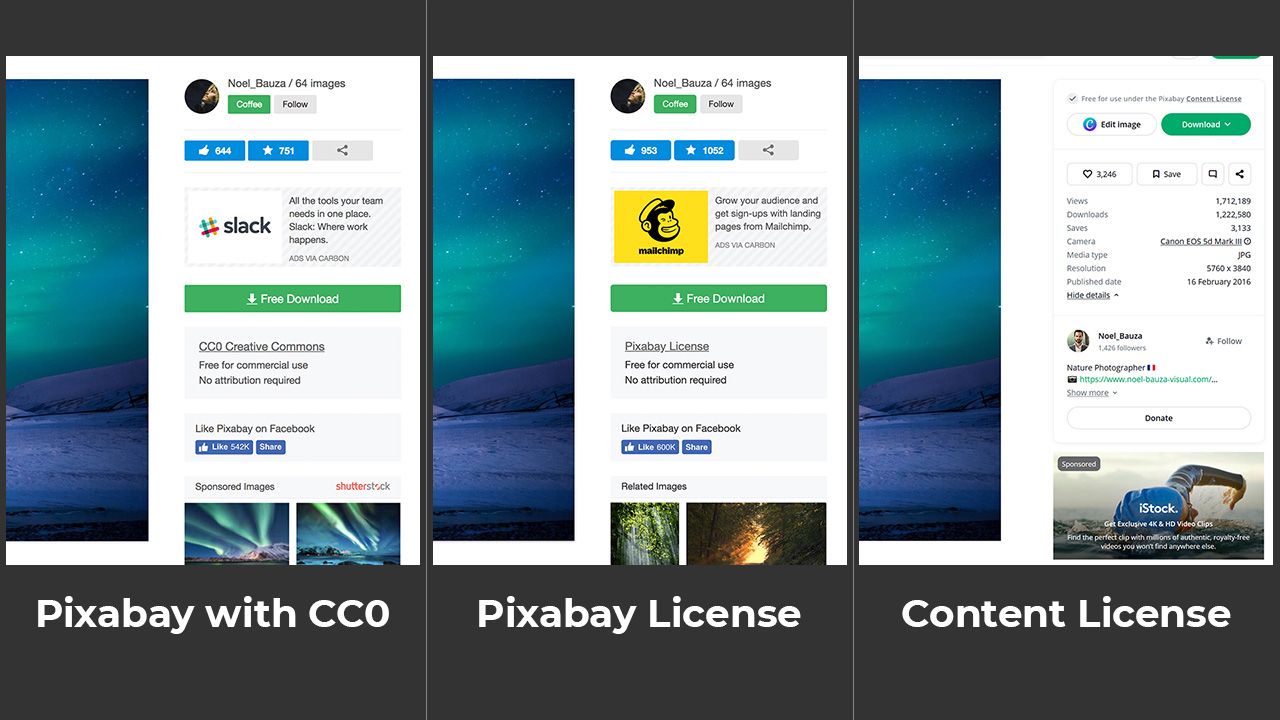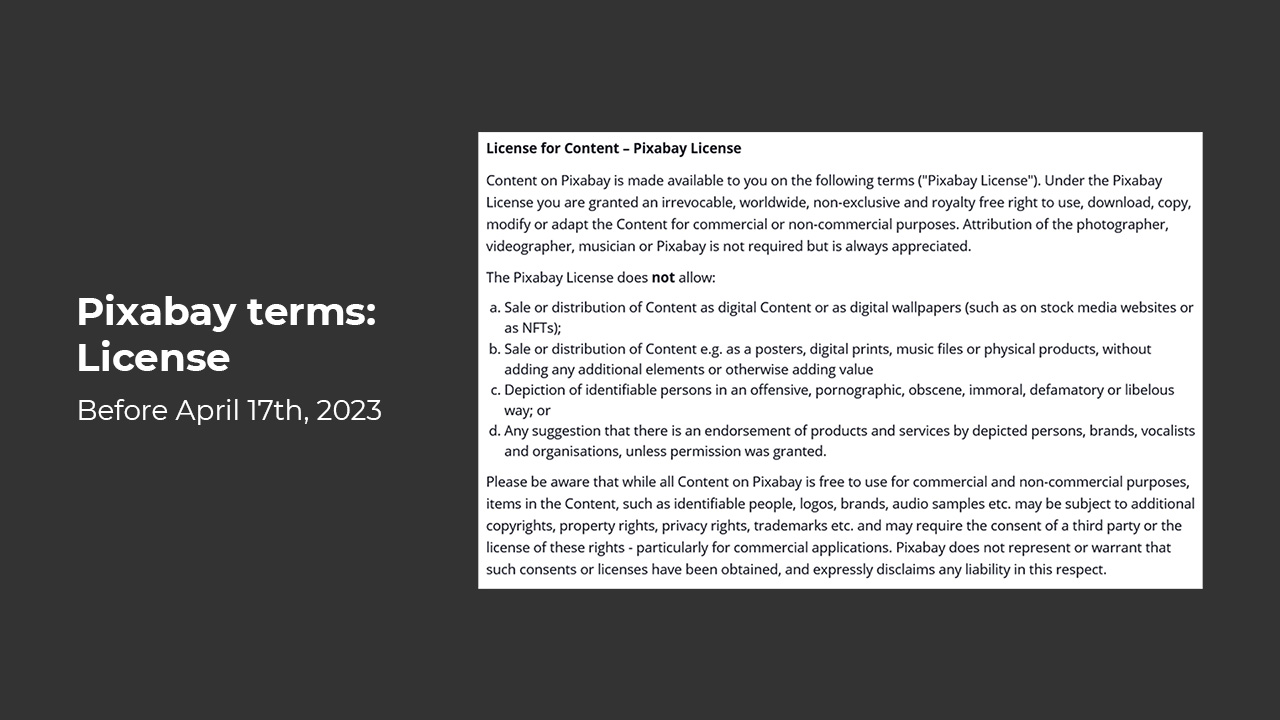 Generative AI content uploads allowed, but it's not that simple
An additional new clause allowing contributors to upload content created with generative AI technology, is among the new changes in Pixabay's terms of service.
As detailed in Pixabay's terms, such content must be disclosed as AI generated by selecting a checkbox upon uploading to the platform.
Though Pixabay has decided to allow such controversial content, according to Pixabay's new terms, it is not as straightforward as it may seem and could potentially be problematic for both contributors and users, plus Pixabay itself.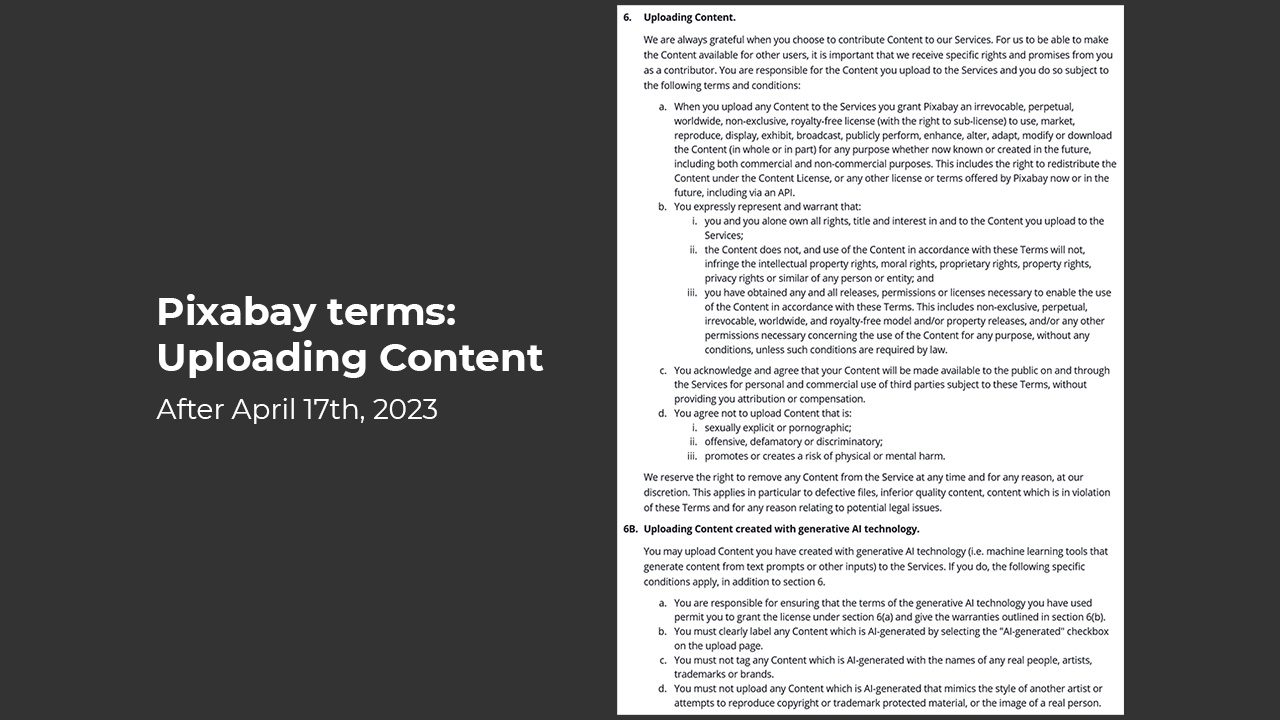 AI generated content controversy and Pixabay's terms
Generative AI services which create content, such as images, utilize large datasets which are typically compiled by gathering content created by people. In the case of AI image generators, as according to a BBC article, "AI image generators learn to create images from simple text instructions by analyzing human-made pictures".
The problem is that unless those datasets solely consist of content which the developer has obtained permission to use, any AI created content could have potential legal issues.
As detailed in Pixabay's terms, as well as abiding by the specific clauses pertaining to generative AI content uploads (section 6B), your content must also adhere to the general content upload terms (section 6). Within section six it states that "you and you alone own all rights, title and interest in and to the Content you upload to the Services".
In theory, based on how generative AI works, these clauses alone, could cause debate and issues around many uploads of generative AI content to Pixabay, not to mention cause legal issues for both contributors and those who download and use the content, plus contributors may also be in breach of Pixabay's terms.
Furthermore, the AI image generator services themselves, have also come under fire because of breaching copyright. In one instance, as reported by the BBC in January 2023, Getty Images took legal action against Stability AI who develop Stable Diffusion, an AI which generates images. Getty reportedly did this because they believed that Stable Diffusion had analyzed images from their service, without obtaining the right to do so.
Open for interpretation and more controversy
An additional clause in Pixabay's terms for uploading content created with generative AI, could prove to be quite controversial and problematic for Pixabay contributors.
According to Pixabay's terms, "You must not upload any Content which is AI-generated that mimics the style of another artist or attempts to reproduce copyright or trademark protected material, or the image of a real person".
Without delving too deeply into this clause, the two main aspects of concern, that an upload must not mimic another artist's style or reproduce protected material, could easily be abused as they could be completely open to debate – who is to say that an artistic style is solely belonging to another artist? Isn't it ok for someone else or an AI to use another's artistic style? Just because one work is similar to another work, could it mean that someone or something is attempting to reproduce it.
These ethical issues are not exactly new of course, not only in relation to AI generated content, but also in relation to human artists as well.