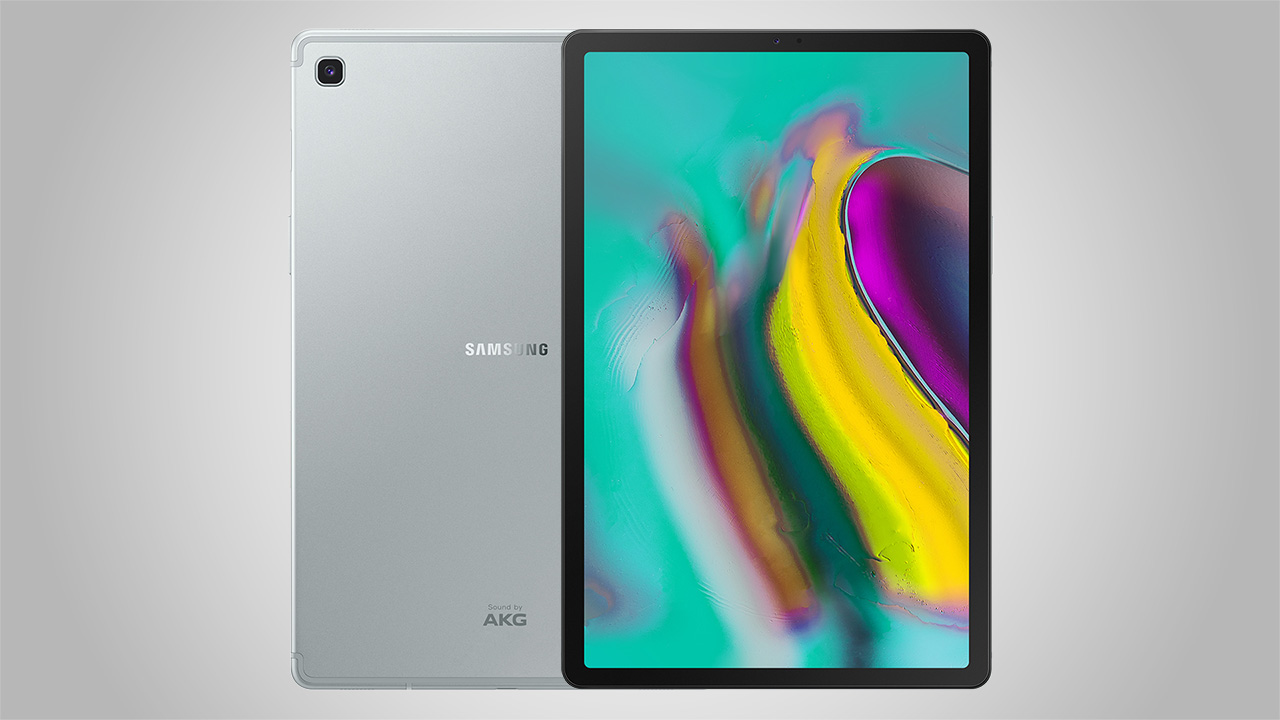 Samsung has announced a new S range tablet, the Galaxy Tab S5e, but it is not exactly a straightforward successor to the Galaxy Tab S4 in Samsung's high-end flagship tablets.
The immediate giveaway that the Tab S5e is not the next high-end Samsung tablet is the addition of an "e" in the name.
If you have followed Samsung over the years, then you will notice that they associate certain letters with mobile devices, signifying different product range tiers. Notably, in relation to the Tab S5e, "S" is normally associated with more expensive premium devices, whilst "A" is usually associated with more mid-tier and affordable devices.
As part of the S5e's announcement, DJ Koh, President and CEO of IT & Mobile Communications Division at Samsung Electronics, described the S5e as "a top-tier tablet with a sleek design and powerful features, available at a new price point". He continued by saying the S5e is "for users who want intelligence that keeps them connected so they can get more done – as well as a big, beautiful screen for a rich, premium entertainment experience – the Tab S5e delivers".
The key takeaway is that the Tab S5e is clearly intended to be a premium device, only at an affordable price point, in other words, they provide enough to give a premium experience but not a high-end flagship device. For example, the Tab S5e has a processor that will deliver decent mid-range performance that won't detract from the premium experience, but is not the best that there is.
Announced on February 15th, 2019, Samsung revealed that the Wi-Fi edition of the Galaxy Tab S5e will be available to purchase sometime in the second quarter of 2019 (April onwards), starting at $399.99. Carrier connected models will apparently follow later in 2019.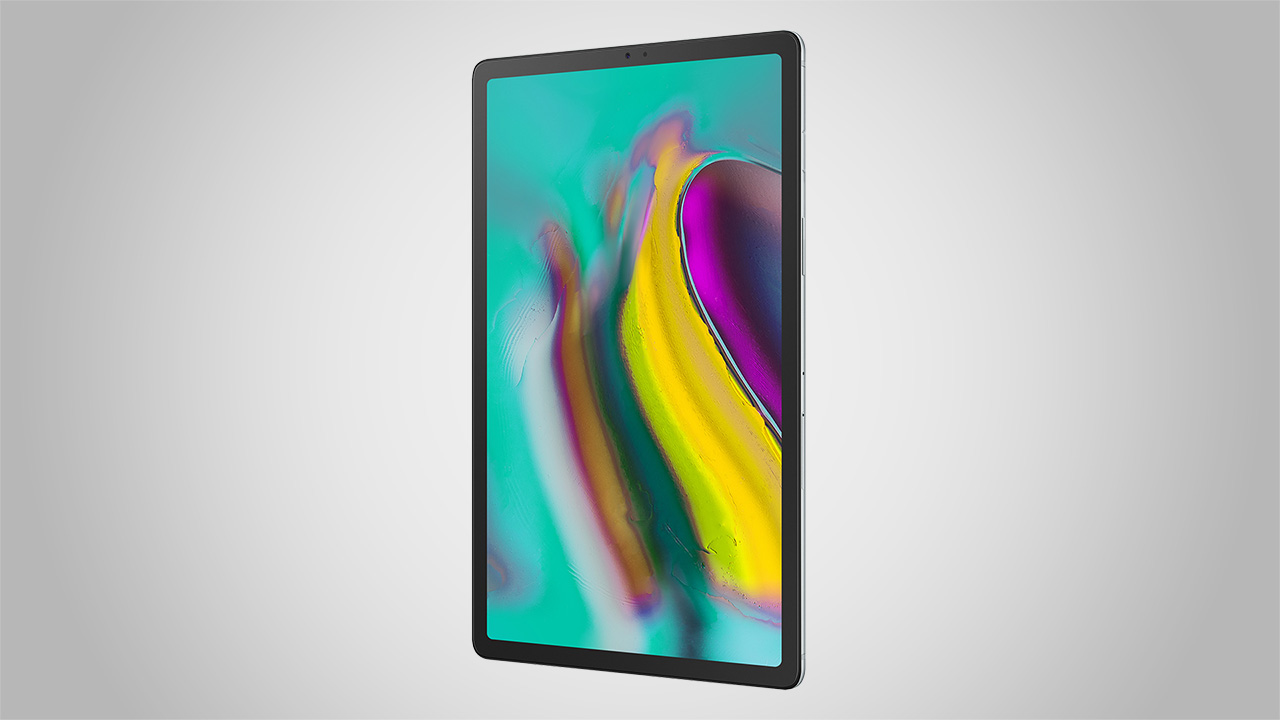 What to expect from Samsung's Galaxy Tab S5e
Samsung's announcement of the Galaxy Tab S5e revealed the full details. The following is a breakdown of what to expect.
Display
Has a 10.5 inch 16:10 Super AMOLED display with a resolution of 2560 x 1600 (WQXGA) and a 287 PPI pixel density.
Body
Housed in a metal body, it has a weight of 400g and a thickness of 5.5mm with slimmed-down bezels for an 81.8% screen-to-body ratio.
Audio
Features quad speakers tuned by AKG with Dolby Atmos, which as advertised by Samsung, will provide a rich and immersive three dimensional sound experience with professionally balanced audio. In conjunction, the quad speakers also incorporate auto rotate stereo technology, which adapts the sound to the tablet's current orientation (portrait / landscape).
The Tab S5e does not have a 3.5mm headphone jack, only a single USB-C 3.1 port if you are interested in using wired headphones. Apparently, there is a USB-C to 3.5mm headphone jack adaptor included in the box.
Camera and video recording
On the rear of the tablet it has a single 13MP wide focal length camera, whilst on the front it has an 8MP camera.
It can also record video in UHD 4K (3840 x 2160) at 30fps.
Storage and RAM
Two different storage and RAM versions will be available – 64GB of storage with 4GB of RAM and 128GB of storage with 6GB of RAM.
If you want additional storage then the device has a slot for a microSD card (up to 512GB).
Processor and video playback
Comes with the Qualcomm Snapdragon 670 processor, a 64-bit octa-core processor, comprising a dual-core at 2.0 GHz and a hexa-core at 1.70 GHz, to deliver mid-range performance.
It is also powerful enough to playback video in UHD 4K (3840 x 2160) at 60fps.
Battery
Supports fast charging and has a 7,040mAh battery, which Samsung has promised will last up to 14.5 hours, of course this will vary depending on usage.
Wi-Fi and Bluetooth versions
Wi-Fi: 802.11 a/b/g/n/ac 2.4G + 5GHz
Bluetooth: 5.0
Security
As well as face recognition, the Galaxy Tab S5e also has a fingerprint sensor built into the physical power button on the side of the tablet.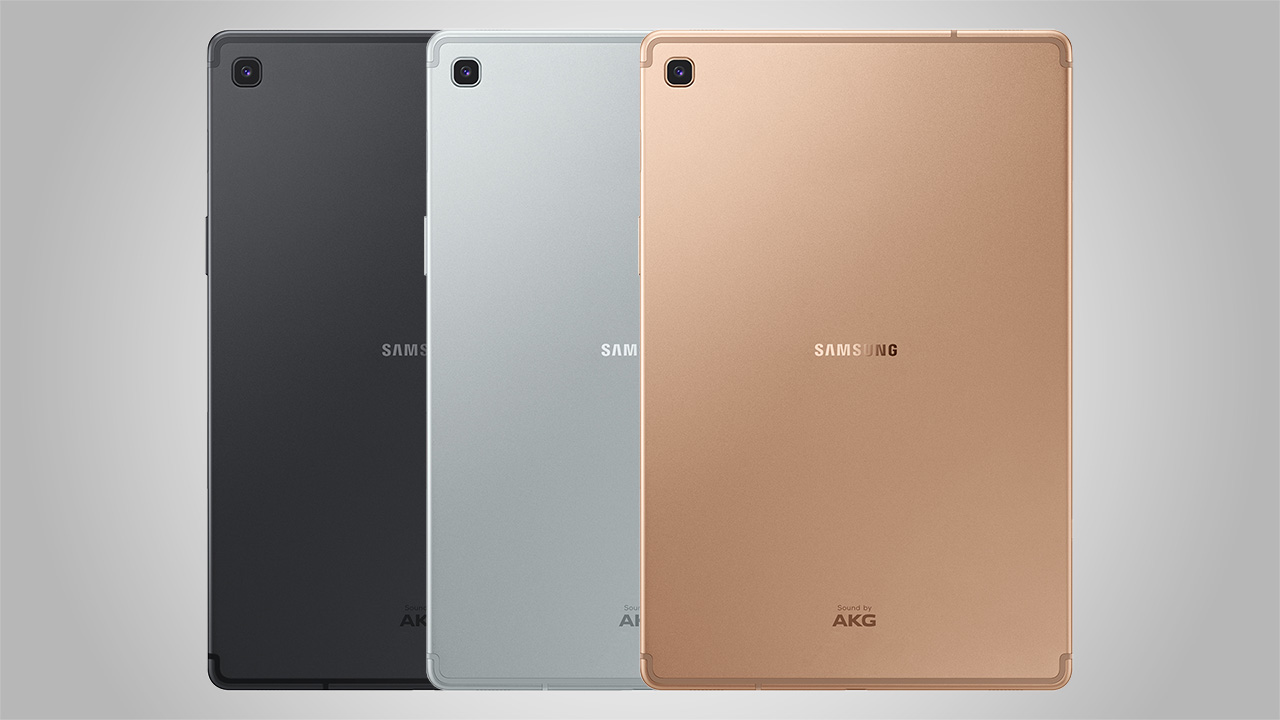 Colors
Will be available in three colors including Silver, Black, and Gold.
Bixby
The Galaxy Tab S5e is also set to be the first Samsung tablet to feature Bixby 2.0, Samsung's virtual assistant.
DeX and Keyboard Book Cover
For a more desktop-like experience the Galaxy Tab S5e comes with Samsung DeX, Samsung's alternate user interface for a desktop / PC-like experience.
You can also separately purchase Samsung's keyboard book cover, which will cost around $129. It attaches magnetically to the back of the tablet and uses pogo pin connectors. Samsung's keyboard cover does not have a touchpad and the tablet does not have an S Pen stylus, nor support for S Pen input. The lack of an S Pen stylus is a significant difference from the Galaxy Tab S4 which comes with an S Pen.