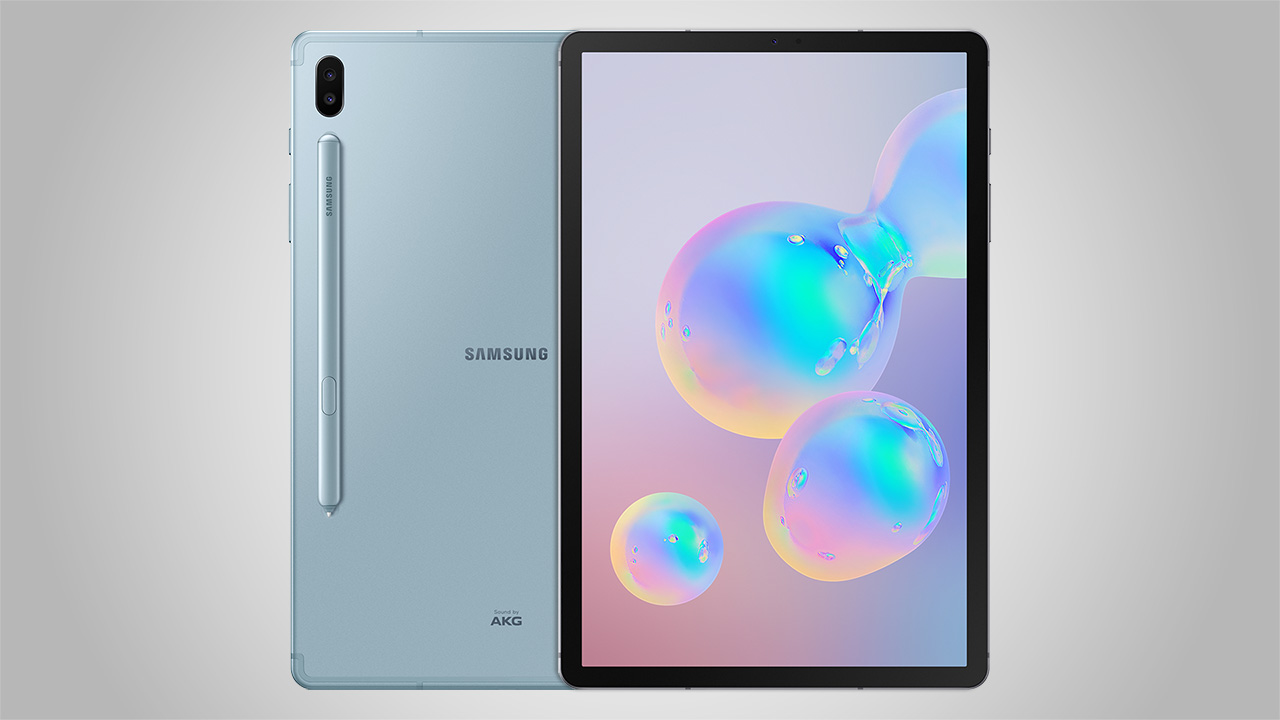 Samsung has officially announced their new flagship Android tablet, the Galaxy Tab S6.
Unlike the Galaxy Tab S5e, which was designed to be a more mid-tier tablet, the Galaxy Tab S6 is a high-end device and the next in line of Samsung's high-end tablets after the Galaxy Tab S4.
Officially announced on July 31st, 2019, Samsung revealed that the Wi-Fi edition will be available to pre-order directly from Samsung.com on August 23rd, 2019 and will later be made available to purchase in stores and online from September 6th, 2019. Samsung also stated that an LTE edition of the tablet will be released later this year.
Pricing of the Galaxy Tab S6 will vary per edition (Wi-Fi and LTE) based on the amount of storage and RAM. Regarding the Wi-Fi edition, according to Samsung, 128GB storage with 6GB RAM will cost $649 and 256GB storage and 8GB RAM will cost $729.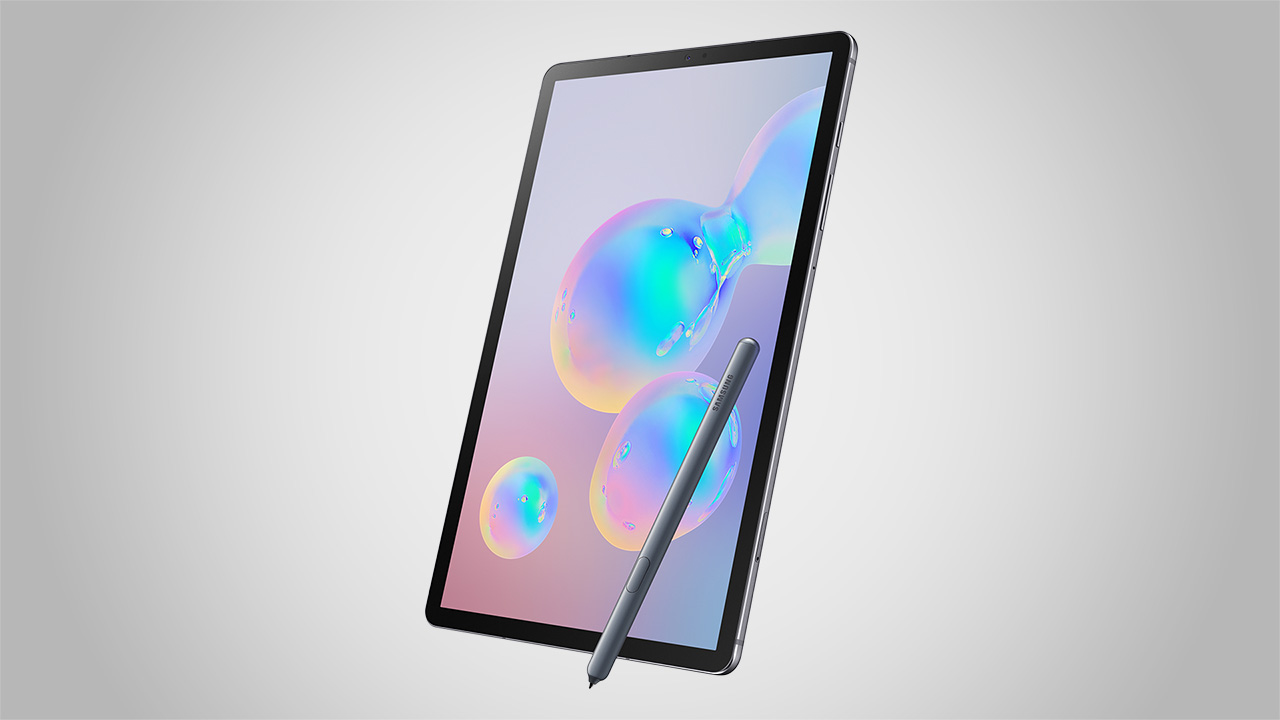 What to expect from Samsung's Galaxy Tab S6
Samsung's announcement of the Galaxy Tab S6 revealed the full details. The following is a breakdown of what to expect.
Display
Has a 10.5 inch 16:10 Super AMOLED display with a resolution of 2560 x 1600 (WQXGA).
Body
A weight of 420g and a thickness of 5.7mm with slightly thinner bezels than its predecessor the Galaxy Tab S4, making the Tab S6 overall very slightly smaller.
Audio
Comes with four speakers tuned by AKG and Dolby Atmos, but it does not have a built-in 3.5mm headphone jack, only a single USB-C port if you are interested in using wired headphones.
Camera, video recording and microphones
Dual camera on the rear of the tablet, which includes a wide focal length (standard for mobile devices) at 13MP and a 123-degree ultra wide at 5MP, whilst on the tablet's front, it has an 8MP camera.
It can also record in UHD 4K (3840 x 2160) at 30fps and has two built-in microphones.
Storage and RAM
Two different storage and RAM versions will be available – 128GB of storage with 6GB of RAM and 256GB of storage with 8GB of RAM.
If you want additional storage then the device has a slot for a microSD card (up to 1TB).
Processor and video playback
Comes with the new Qualcomm Snapdragon 855 processor, a 7nm 64-bit octa-core processor, comprising a single-core at 2.84 GHz, a triple-core at 2.42 GHz and a quad-core at 1.78 GHz.
It is also powerful enough to playback video in UHD 8K (7680 x 4320) at 30fps.
Battery
Supports fast charging and has a 7,040mAh battery which is smaller than the Galaxy Tab S4's 7,300mAh battery.
Wi-Fi and Bluetooth versions
Wi-Fi: 802.11 a/b/g/n/ac 2.4G + 5GHz
Bluetooth: 5.0
Security
As well as facial recognition, it will also come with an on-screen fingerprint scanner. The device is also secured by Samsung Knox, Samsung's security platform.
Colors
Will be available in three colors including Mountain Gray, Cloud Blue and Rose Blush.
S Pen
Included in the box is a newly redesigned S Pen, which you can magnetically attach to a designated place on the back of the tablet, for both storage and wireless charging. According to Samsung, the Galaxy Tab S6's S Pen charge should be good for up to 10 hours on standby alone with its 0.35mAh battery.
The S Pen also features some remote control functionality, including a gesture function called S Pen Air Action. With a limited range of up to ten meters from the tablet, it allows you to do various actions such as, taking selfies and videos, or scroll through multimedia content.
DeX and Bixby
Comes with a new-and-improved version of Samsung DeX, Samsung's alternate user interface for a desktop / PC-like experience as well as Bixby, Samsung's virtual assistant.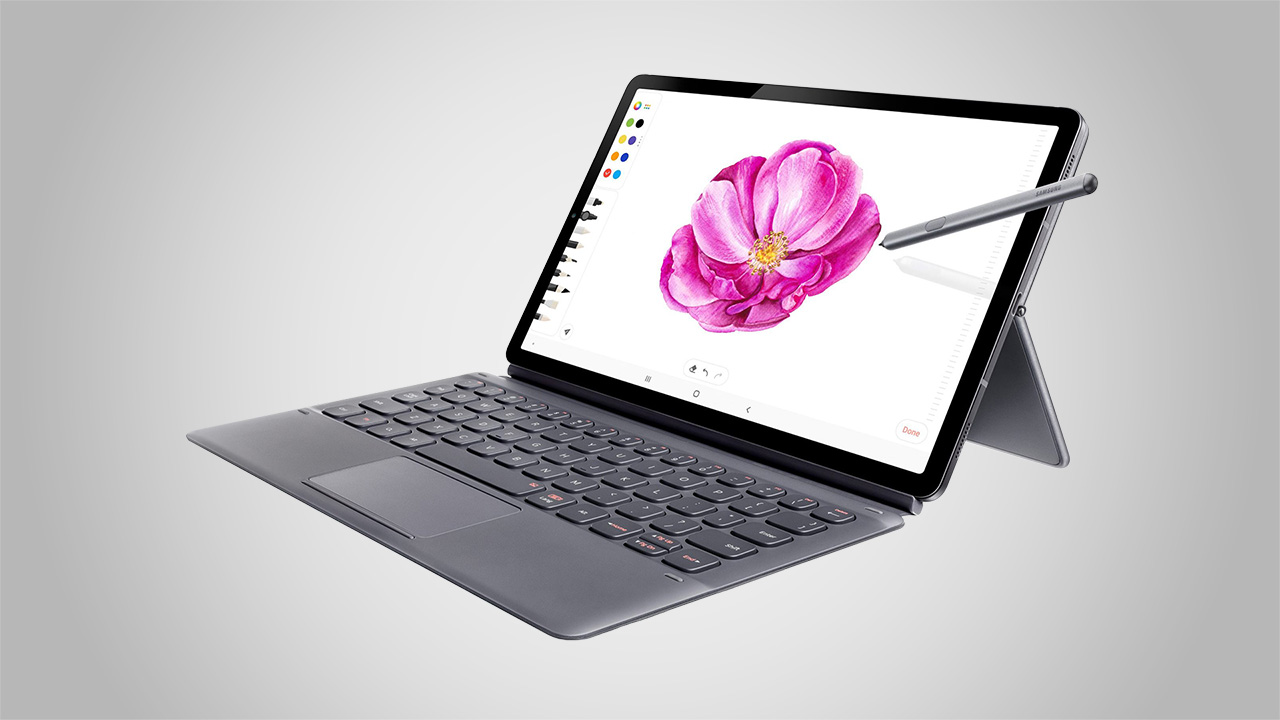 Book Cover Keyboard
For a more PC / laptop like experience you can use the Galaxy Tab S6 with a keyboard cover, sold separately, costing around $180.
Referred to as the "Book Cover Keyboard", the cover comes in two pieces; the stand which attaches to the back and the keyboard which attaches to the bottom edge (landscape orientation) with pogo pin connectors, both of which attach magnetically.
Overall the case includes a physical keyboard, touchpad, function keys, free angle stand and an S Pen holder.