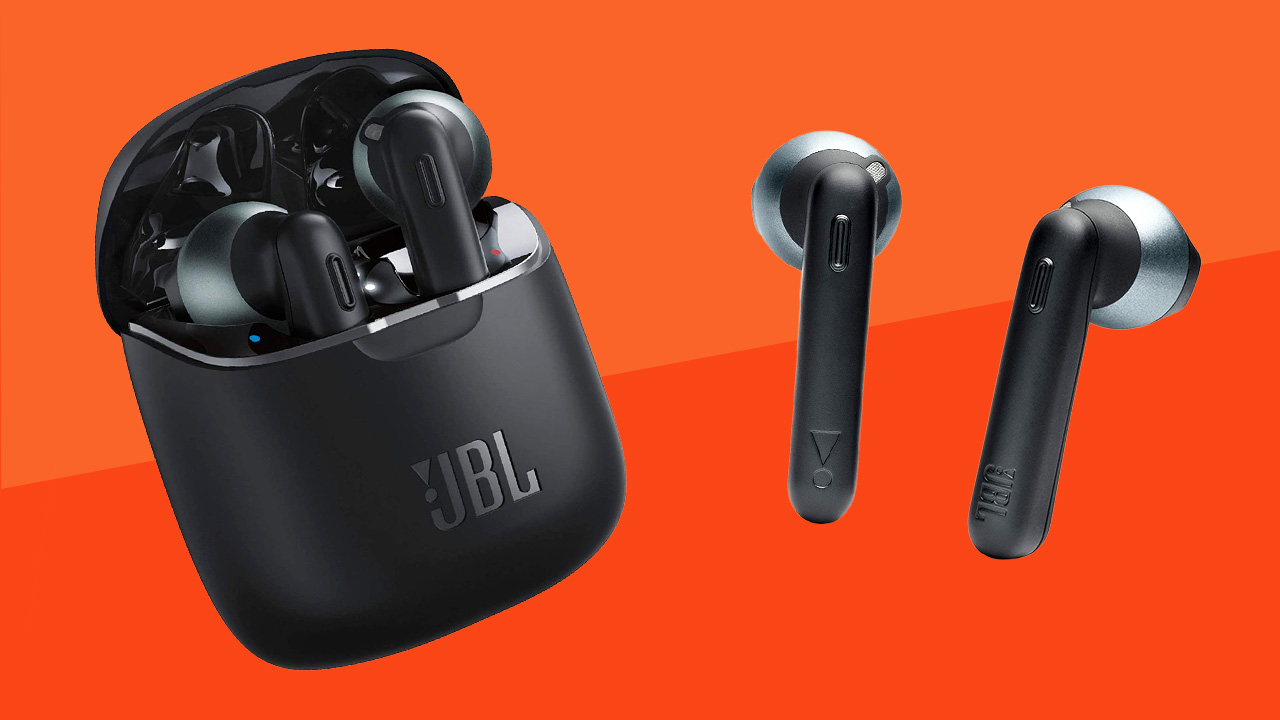 The JBL Tune 220TWS are fully wireless Bluetooth earbuds with a built-in microphone and storage charging case. Upon purchasing this product, I was looking for an affordable pair of Bluetooth earphones, which would provide good quality sound and were not in-ear monitors.
Enter JBL. JBL is a well known and established audio brand, with a range of earphone products. On Amazon UK you are able to purchase a number of JBL earphones for less than a hundred pounds. Although you should note, the JBL Tune 220TWS is priced at £99.99 on JBL's website at the time of writing.
Generally speaking, earbuds are typically easy to lose and don't necessarily last very long. So finding a pair of wireless earbuds that are more affordable seemed like a good idea. But when you're looking for quality sound, affordability and buds which are not in-ear monitors, you'll suddenly find yourself in a quagmire.
The main aspect which attracted me towards the JBL Tune 220TWS earphones was the type of earbud tip. Although they are in-ear, they are not in-ear monitors. I personally do not like in-ear monitors. I don't find them comfortable, no matter the bud size and I don't like being cut off from my surroundings. Plus I worry about my ears health, what with regularly having a bud deep in my ear for long periods of time.
Product specs
Connectivity
Bluetooth version: 5.0
Bluetooth profiles: A2DP 1.3, AVRCP 1.5, HFP 1.6
Audio
Driver size: 12 mm (at the time of writing, JBL's product page also mentions 12.5 mm separately to technical spec's breakdown)
Dynamic frequency response range: 20 Hz – 20 kHz
Driver sensitivity at 1kHz / 1mW: 105 dB
Impedance: 32 ohms
Battery
Battery Type: Lithium-ion battery (22 mA / 3.85 V)
Charging time: 2 hrs (approx from empty)
Maximum play time: 19 hours approx (3 hours earphones, 16 hours charging case)
Other
Built-in Microphone
JBL Pure Bass Sound
JBL True Wireless
Weight: 57g (1.98oz)
What's in the box
JBL TUNE 220TWS earpieces
Charging case
Micro-USB flat orange cable
Various booklets
About this review
For this review I had the JBL Tune 220TWS in black. During my testing, I tried the earbuds with a Samsung Galaxy S9, Samsung Tab A and an HP Envy laptop. These devices ranged from having Bluetooth v5.0 or v4.2.
I listened to a variety of music which includes rock, dance, EDM and pop, spanning newly released studio recordings to high quality vinyl recordings. I played WAV, FLAC and MP3 music files, used video files with AAC and EAC3 sound tracks and tried them with Amazon Music, Amazon Prime Video, Netflix and YouTube streaming services.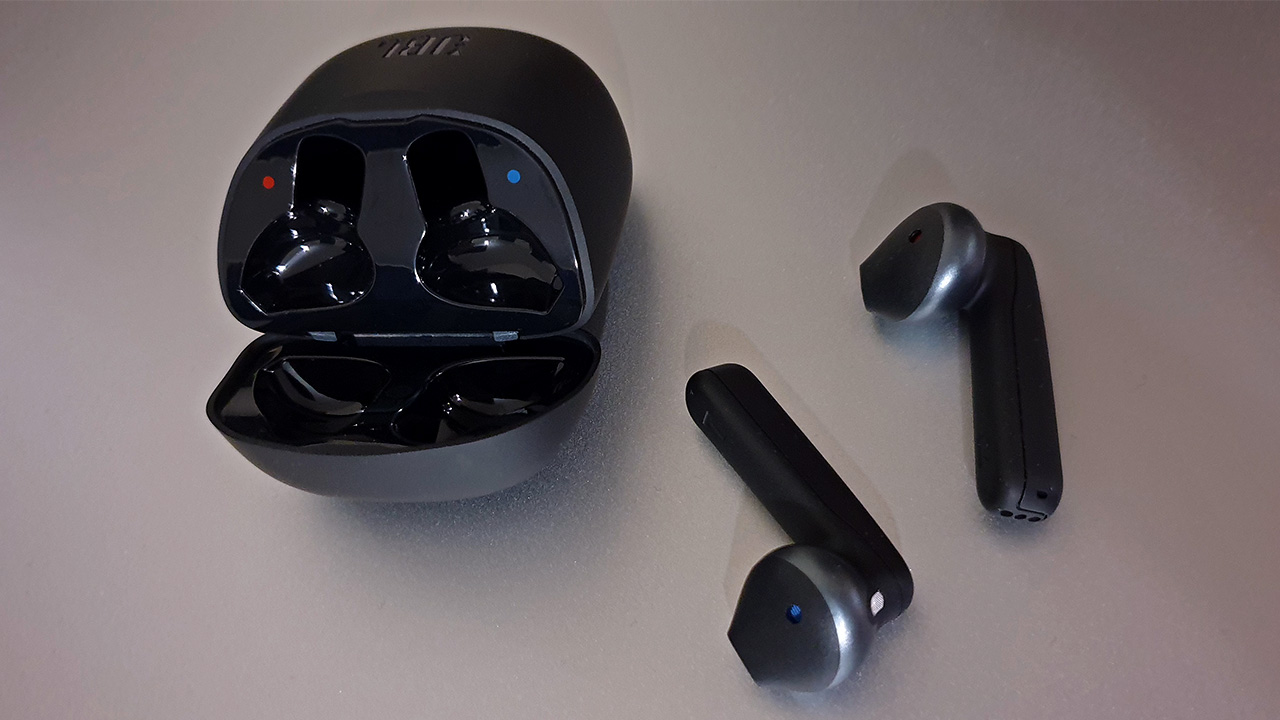 Earbuds sound quality
The sound quality of the JBL Tune 220TWS was relatively good for a pair of earphones in this price range. Tested on flat EQ settings, they provided decent bass without being over the top and whether I was listening to music or watching a movie, they provided good separation between instruments, voices and sound effects. I could hear the lows, the mids and the highs well, however although there was clarity of sound, I always felt there was that extra bit of clarity and richness missing, which also affected the openness of the sound.
Upon tweaking EQ settings, I found I was able to vastly improve the earbuds to yield a much richer sound quality, but once again there was a certain clarity missing. I also felt that the earphones were generally a bit quieter, as I found myself having to turn the volume up above my normal level to get a decent sound level.
Earphones and charging case – Design and fitting
The JBL Tune 220TWS were quite stylish in black and featured a matt finish on both the case and earbuds.
The earbuds
The earphones themselves are very similar to traditional earbuds in design, only they are wireless. They're bud type, which is not the in-ear monitors (in-ear canal), JBL describes as an ergonomic design. It is much more similar to the traditional earbud design, only it has a sort of cone shaped fitting to fit more directly into the ear. As someone who has more sensitive ears and is not happy with fitting something deep into the ear at all, I found this earbud design to be preferable and more comfortable, compared to the usual in-ear monitors.
The earbuds' rectangular stem has rounded off edges and is quite blocky in appearance, although I was not in love with it, I found it acceptable and it added grip whilst handling them.
Both earbuds have a single 'easy to feel' button on their bodies (each for a different function), accompanied by a small light indicator behind a silver mesh. The earbuds have "L" for left and "R" for right embossed on the body, with blue and red color coding for left and right on both the earbuds and case. They were light to wear in terms of weight and never felt as if they were going to fall out.
In saying this though, they're fitting was not perfect for my ears. During usage I experienced some discomfort as they felt a little tight. Over time this effect did fade a bit, but it never seemed to really go away fully. Obviously the earbuds need to stay in the ear and not fall out and they are based around a one size fits all design, but perhaps it was just me.
Earbuds and case texture – "tacky matt plastic"
Both the case and earbuds have a tacky matt plastic. Personally, I found this was not too nice to touch, but I'm picky on these sorts of things, so this is down to the person. It was good for not getting marked with fingerprints and provided some grip, but grease would build on it.
Interestingly though, the underside of the earphones which has constant contact with skin whilst wearing, uses a smoother plastic and a smooth rubber on the earbud tips. The case itself also has a different plastic on its interior, which was much smoother and shinier. Overall, the smoother, less tacky plastics were far more pleasant to touch and would have been much more preferable in place of the exterior matt plastic, though it attracted more fingerprints.
Charging case
Other than the exterior plastic texture, the earphones charging case was for the most pretty good. It had a spring hinge which seemed to be reasonably strong, though I still wanted to be careful as it was not overly strong. The lid also seemed to utilize magnetism to help keep it shut.
The earbuds fitted into the case well and seemed to use magnetism to hold the earbuds in place. But the way they fitted in the case, by sliding the stems into cut out vertical holes, was not good for cleaning, which I feel is an important factor, given the potential for general grease and dirt to build up over time with usage.
Earbud buttons – "difficult to press"
The earbuds' buttons were easy to find whilst wearing, though they proved to be more difficult to press, as attempting to do so would really press the buds into my ear which was awkward and not very comfortable.
Earbud function sounds – "low quality and clunky"
In order to indicate what the earbuds are doing, such as turning on or off, they make various sounds. I thought these sounds were ok, but they did sound a bit low quality and clunky.
Battery life and charging – Loose charging connection
The JBL Tune 220TWS are supposed to contain enough power for 19 hours total of listening time (3 hours earphones, 16 hours charging case). In actual usage they mostly lasted long enough, although there were times where longer would have been better.
Charging the earphones by mains power took about 2 hours, but when charging the actual earbuds in the case, I noticed that one bud at random sometimes didn't charge. I was fortunate enough to be able to test a second pair which also had the same issue. I suspect this is how the earbuds sit on the pins in the case to charge, which results in a looser connection.
On another note, the flat orange micro-B to type-A USB cable which came in the box, although stylish, had a poorly designed type-A male connector. I think it was designed to be able to plug in to a port either way around, but it made it very stiff to plug in and honestly made me worry about putting it in any port.
Bluetooth connection and earbud syncing
The Bluetooth connection was perfectly fine when connecting to my Android devices, however when connecting to my HP laptop the connection would initially drop and I would have to reconnect for it to stabilize. Using the earphones at a distance from the current paired device (living room to kitchen or bedroom in apartment) seemed to be fine, no drop outs or loss of connection.
Although, regarding the sync between the earbuds themselves, I noticed some syncing issues would randomly occur every now and then, upon taking them out of the case. To fix this, I had to manually turn them off and back on in sync.
Conclusion
Although the JBL Tune 220TWS are not terrible by far, they're also not great.
In terms of earbuds in general, I have experienced better sound and build quality from cheaper cabled earbuds in the past. Granted these are wireless and are mostly competing against the ever popular Apple AirPods, but even so I still don't believe they are good enough to be called a high quality earbud product – perhaps intermediate would be more appropriate.