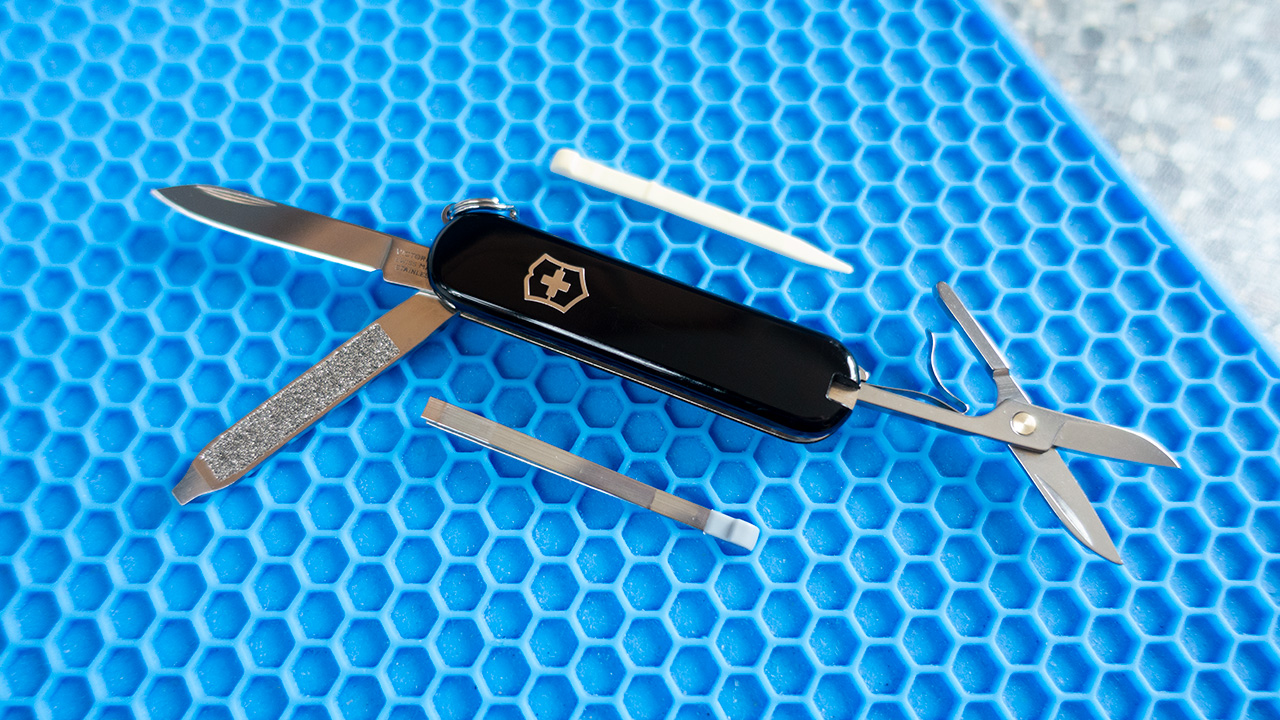 The Victorinox Classic SD Swiss Army Pocket Knife is equipped with seven functions which include a small blade, nail file, scissors, screwdriver 2.5mm, tweezers, toothpick and a key ring. It is available in many different colors, some of which are designs. The blade measures at 3.5cm approx and the body (closed) measures at 5.8cm. The blade is not lockable and requires two hands to open. Each of the primary tools has a nail nick. It is perfect for EDC (Everyday Carry), especially in the UK.
Victorinox pocket knives are actually made in Switzerland at their factory in Ibach. The Classic SD materials appear to include ABS / Cellidor and a Stainless Steel alloy.
I have the black version of the Classic SD for this review.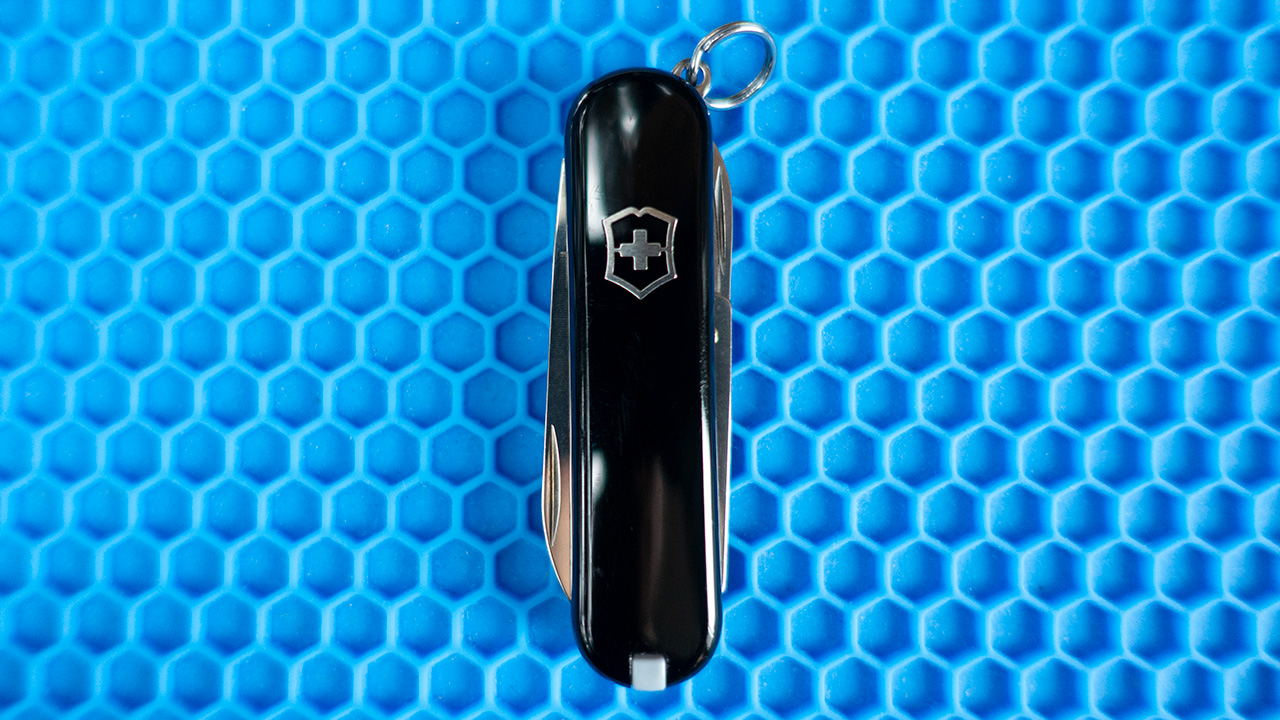 Pocket knife body
The body has a stylish glossy finish which is smooth to touch and shiny. But although this finish is stylish, it is both a scratch magnet and a fingerprint magnet.
Yes it is a tool and it's not meant to stay perfectly pretty, but it really does get noticeably scratched easily. Plus, it was already covered in bad scratches upon delivery.
I bought two of the Classic SD pocket knives in black, which both arrived in sealed plastic packaging. I was very careful with opening them and yet both knives' bodies were already covered in bad scratches, one of which had a thick patch. The scratches appear to only be noticeable when direct light reflects on the body – any sort of light from daylight to room light will show it.
When you clean the pocket knife's body, be sure to only use soft materials. Even a soft tissue with too much pressure appeared to scratch the body. So be careful if you care about scratches.
Solid build
Although it is a scratch magnet, this pocket knife is an all around solid build.
It is very light to hold and whether it's closed or open it feels solid, with each tool staying firmly in place. None of the tools feel loose, no wiggling or micro shifting.
Each tool excluding the toothpick is made of metal. The primary tools feel nice and sturdy, they don't feel as though they are going to close when using them. They require a bit of strength to shut, not a lot but enough.
The toothpick and tweezers slot snugly into one end of the body, with their tabs or hilts ever so slightly raised so your nail can catch to slide them out. The tweezers (made of metal) feel strong enough for what they are and the toothpick (made of plastic) has a bit of flex without snapping, but I wouldn't put too much pressure on it.
To top it off, even the keyring looks solidly fixed into the body, so if it pulls it shouldn't break.
Opening mechanism
The folding mechanism felt great. It's smooth, not too stiff and it doesn't feel like it's going to unexpectedly ping shut until it reaches the closing point.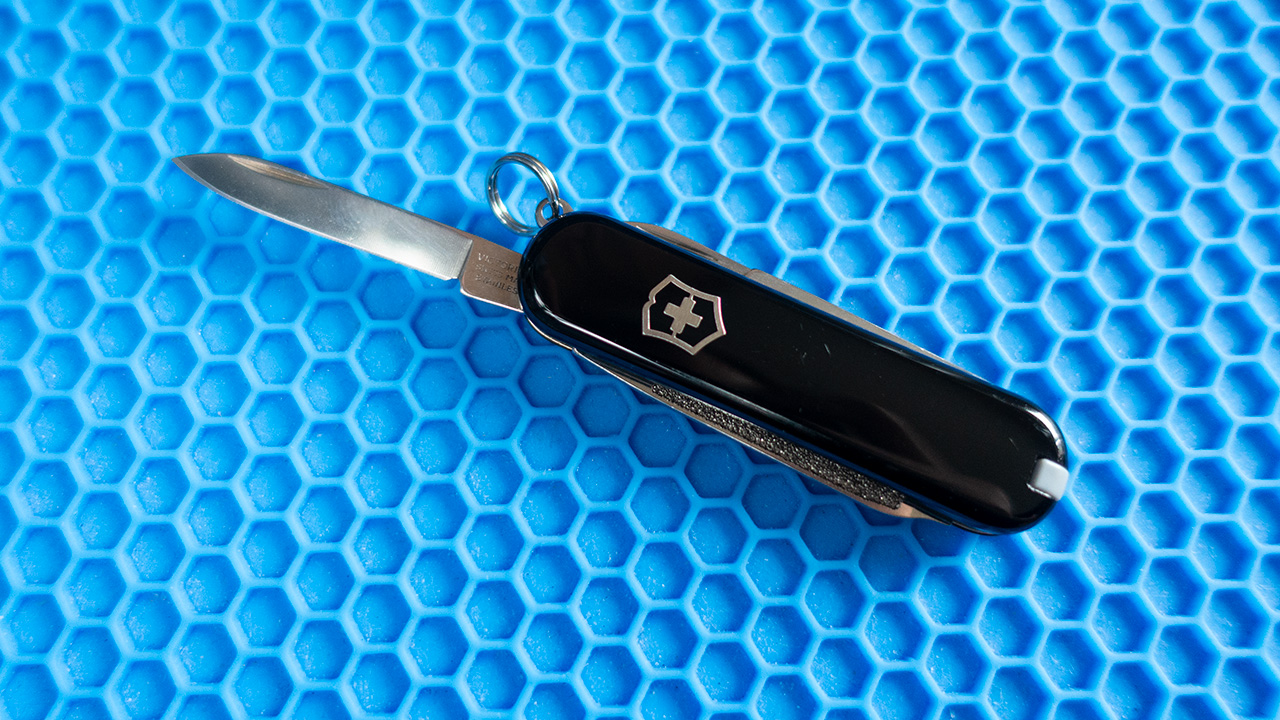 Knife and scissors
The knife itself measures at 3.5cm approx. Compared to most pocket knives it is very sharp and has a good tip on it – practical enough. Bear in mind this is not a purpose knife (hunting knife, kitchen knife, etc), it is good for those random things that pop up. The knife shouldn't have much of a problem with orange and banana skins, tape or an envelope.
The scissors fall into the same sort of category as the knife. They may be tiny but they are sharp. Although it may be a bit awkward, they shouldn't have a problem with cutting paper, tape or even your nails.
Conclusion
Victorinox definitely are a quality brand, but in saying this the Classic SD Swiss Army Pocket Knife was certainly not perfect. It was a disappointment to see the bad scratches on not one but two of these pocket knives. I'd rather start off with no scratches and accept the ones which happen from usage. Fortunately the tools do not scratch as easily as the body and are made of a stainless steel alloy (excluding the toothpick). Overall though it is stylish, practical and perfect for EDC, especially if you are in the UK or somewhere which has similar knife carrying laws.
When it comes to longevity, I think this pocket knife will last. A family member of mine bought the same black Classic SD pocket knife over twenty years ago. Although it is a bit battered, lost its shine and the opening mechanism doesn't have quite the same spring to it anymore, it is still able to function properly. So providing Victorinox hasn't downgraded anything in the past twenty years this pocket knife should last a very long time. Just make sure you clean the various tools as you will obviously get stuff build up on the surface.
Overall the Victorinox Classic SD Swiss Army Pocket Knife is a good choice if you're looking to buy a small everyday carry pocket knife.